NKAS noteskin by DJ Tepples
This noteskin is designed to look vaguely like that of Beatmania IIDX. Use this noteskin to play dance-double on the StepMania simulator, or just to make Arch0wl's simfiles look like the IVKAS they are.
Screenshots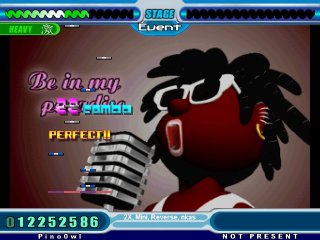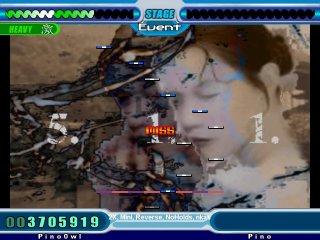 Suggested settings

Modifiers: x2, Mini, Reverse
Noteskin: Nkas

Key mappings:
 1P Left:  Key left shift
 1P Right: Key x
 1P Up:    Key s
 1P Down:  Key z
 2P Left:  Key d
 2P Right: Key v
 2P Up:    Key f
 2P Down:  Key c

       S D F   ==      U L U
shift Z X C V  ==  L  D R D R

Simfiles
If you have simfiles with double steps for DDR, you can use those. You can also convert non-keysounded .bms files, but the procedure is rather complicated:
Put the .bms files and the .mp3/.ogg file in the same folder.
Create blank dance-single steps.
In Notepad, edit the .sm file such that the imported IIDX steps are for dance-double.
In StepMania's editor, open the dance-single steps, and Reload from Disk.
Close the single steps and open the double steps.
Select all (Home Space End Space), and shift the steps to the right.
Known bugs: Freezes don't work.
The noteskin and the accompanying documentation are licensed under a Creative Commons License.